Minting
Minted
0

/8888
---
---
0.06 ETH + GAS
About
---
Chubby Little Jiras' core mission is to develop, build upon, and integrate with the already well established foundation of Project Godjira (PGodjira), which is arguably one of the most successful NFT projects in the Web3 space. At this moment, Project Godjira has approximately 2,500 unique holders however because the discord is closed, we believe this may serve as a limiting factor for further expansion.

One of the fundamental objectives of the Chubby Little Jiras is to allow newcomers to gain exposure to this exceptional project at a more affordable entry point, while ensuring that both projects - PGodjira and Chubby Little Jiras - enjoy the benefits and rewards that PGodjira has to offer with the additional goal of continuing to expand and advance the existing ecosystem to greater heights.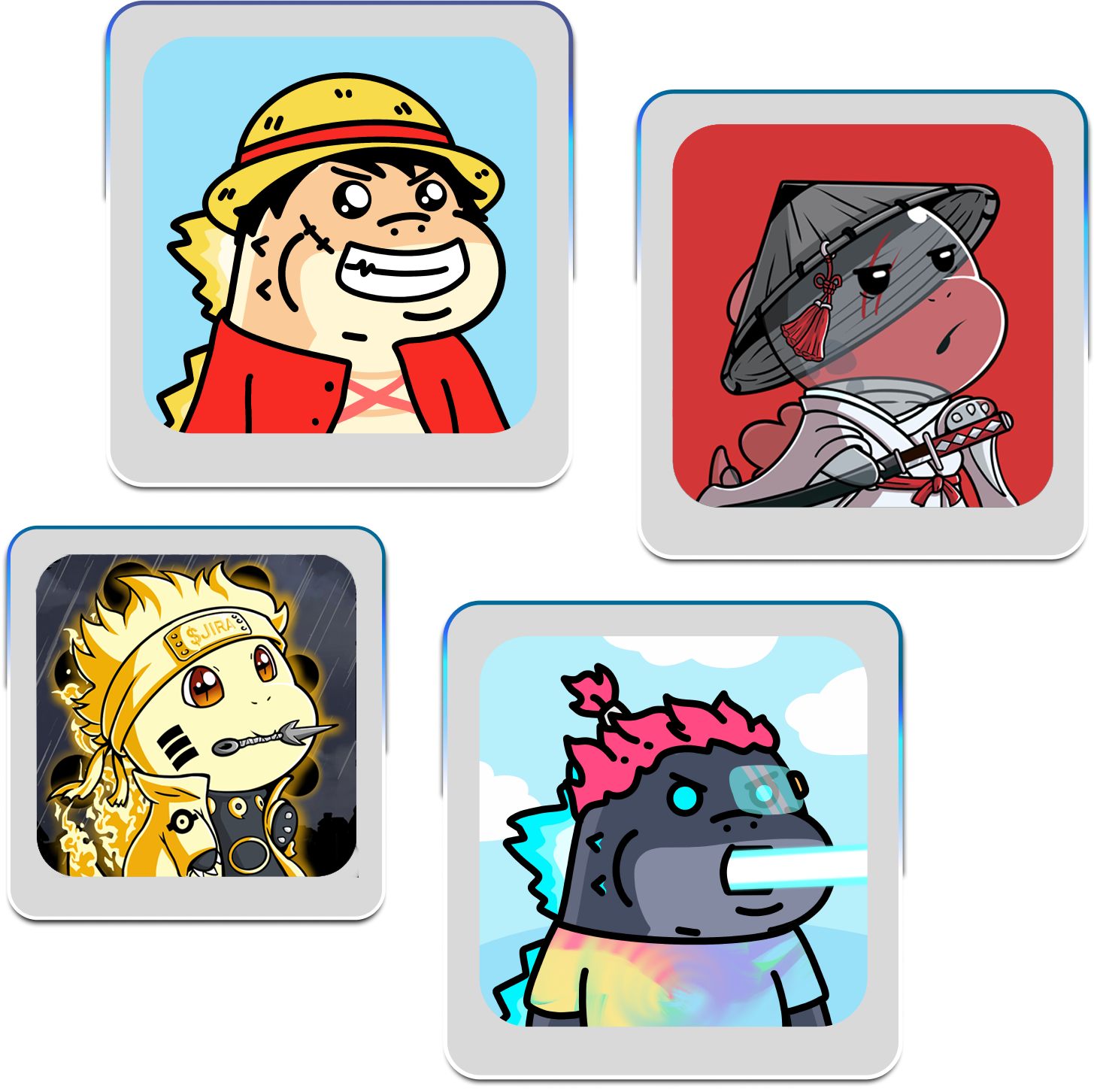 FAQ
Owning a Chubby Little Jira grants you access to many benefits, which are directly linked to the well-respected Project Godjira. You NFT acts like an entry ticket to their and our ecosystem. Staking your NFT(s) gives you the opportunity to earn $Jira, a token generated by Genesis and Gen2 Godjiras, which can be used to purchase high quality whitelists from hyped projects for example. You can find more info regarding our utility on our twitter page or inside our discord.
The official presale will be held on July 6, 2022 at 8PM EST. If there are any NFTs left after our presale has finished, our remaining Chubby Little Jiras will be available for grabs in the public sale, which will be held directly after the presale phase.
Yes, Little Jiras and Chubby Jiras were 2 separate collections. We decided it would be best to join forces due to several reasons. The final collection will consist of 4,444 Little Jiras and 4,444 Chubby Jiras. It will be decided randomly which one you will mint.
To gain access to our presale, you must be allowlisted. You can find out more info on this inside our discord server.
The price for minting 1 NFT is 0.06 Ethereum for both sale phases.
Our official minting will only occur on our official website (the one you're on right now), chubbylittlejiras.io
It was not an easy decision for us to make but to adapt to these rough market conditions and for the greater success of our community/project, it was unavoidable to do so. Thus, we'll be having some overallocation just as many successful projects have adapted to doing so in recent weeks in order to mitigate risk for both the project as well as our community.
Burn to Upgrade Mechanism
Burn to upgrade means that you will be burning CLJ tokens in your wallet in order to upgrade ONE token to a higher rank. You MUST have more than 1 NFT in order to participate in the burn to upgrade mechanism since it requires burning additional NFTs to upgrade your selected NFT.
A ranked CLJ NFT will yield SLIGHTLY MORE $Jira than the respective amount of unranked NFTs. For example, a diamond rank yields slightly more $Jira than 11 unranked (not upgraded) CLJ NFTs.
Higher $Jira yielding for higher ranks
More entry tickets for upcoming raffles for NFTs (like Jiraverse, Gen2 Godjiras and potentially other projects)
Gated WL giveaways for the highest ranks
To gain access to our presale, you must be allowlisted. You can find out more info on this inside our discord server.
Our collection is called the Chubby Little Jiras. Regardless of which art that you have on your NFT, each NFT is the same. You can burn ANY unranked token that you would like to upgrade your favorite token.
The short answer is NO. The rarity of your token does not matter for which one you choose to keep. We recommend choosing your favorite one as the token that you upgrade.
Rarity also does not affect how many tokens that it represents. Every unranked token equals 1 unranked token (1 unranked = 1 unranked)
Bronze: 1 unranked NFT (must hold 2 tokens total)
Silver: 2 unranked NFT (must hold 3 tokens total)
Gold: 4 unranked NFT (must hold 5 tokens total)
Platinum: 6 unranked NFT (must hold 7 tokens total)
Diamond: 10 unranked NFT (must hold 11 tokens total)
Please make sure that you are on the ETH mainnet on your metamask/wallet when using the website. ALL other networks will not work properly.
Due to the nature of our website we recommend using a PC/laptop or equivalent device in order to use our burn mechanism. You CANNOT use a mobile device.
Please refresh your metadata on your token.
If it does not immediately work it may be a cache delay on opensea. Please do not worry and check back later after the data has been updated on the opensea databases.
We recommend making sure that your CLJ that you are UPGRADING is DELISTED from all marketplaces before burning. We have already seen a "mishap" where someone left their token listed and it was quickly sold after it had been upgraded.
//